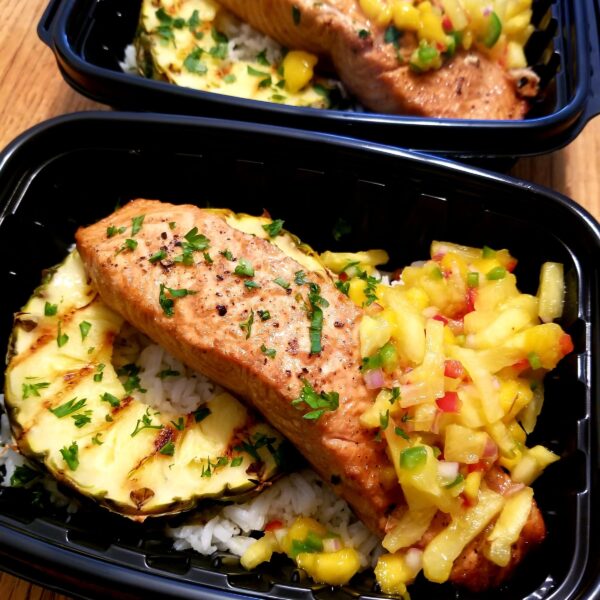 Caribbean Salmon
Enjoy our flavorful twist on this Caribbean Salmon dish, complete with ingredients to make your own homemade mango salsa.
Ingredients
1

lb

Salmon – cut into 2 servings

1

Orange – squeeze for the juice

1

Lime – squeeze for the juice

1

tbsp

Olive Oil

1

tbsp

Pineapple Juice

1

tsp

Cayenne Pepper

1

tsp

Fresh Thyme

Salt and Pepper

4

slices

Pineapple
Mango Salsa Ingredients
2

slices

Mango – cut into cubes

1

Lime – squeeze for the juice

1

Mango – cut into small bite-sized pieces

.25

cup

Chopped Red Bell Pepper

1

Avocado – cut into cubes

.25

cup

Chopped Red Onion

.25

cup

Cilantro
Instructions
Combine the orange juice, lime juice, olive oil, pineapple juice, cayenne pepper, thyme, salt and pepper in a shallow bowl.

Marinate the salmon for 30 minutes to 2 hours. Do not leave in the marinade for too long as the citric acid will cook the salmon and make it too mushy.

While the salmon is marinating, combine the mango salsa ingredients and set aside.

Heat a pan to medium. Remove the salmon from the marinade but do not dispose of it yet. Place a tbsp of olive oil in the pan and sear the salmon skin side down for 3-4 minutes, until the bottom starts to turn opaque. Flip the salmon and peel the skin off. This should come off very easily. Brush the marinade across the previously skin covered side of the salmon. Continue cooking for another 3-4 minutes. Flip once more and cook for about a minute.

Place each piece of salmon on top of two pineapple slices and top with the mango salsa. If you want to add more flavor and appearance to the dish, grill the pineapple slices beforehand. Serve with Rice and beans or fresh veggies!