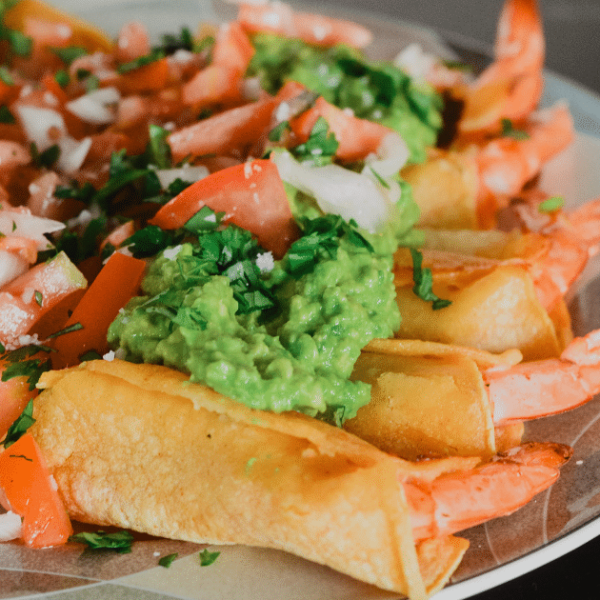 Prawns in a Blanket
Lightly fried to perfection and topped with fresh guacamole, pico de gallo & cojita cheese, these prawns in a blanket are a truly tasty treat.
Ingredients
8-12

Raw Jumbo Shrimp

1

tsp

Garlic Powder

1

tsp

Cayenne Pepper

1

tsp

Old Bay Seasoning

.5

cup

Refried Beans

.5

cup

Monterrey Jack Cheese

2

Avocados

2

Limes

1

Diced Roma Tomato

.25

cup

Diced White Onion

.25

cup

Chopped Cilantro

1

Diced Large Jalapeno

.25

cup

Cotija (crumble) Cheese

Salt and Pepper
Optional – Oil for Frying
Optional – Homemade Tortillas
2

cups

Masa Harina

1.5

cups

Warm Water
Instructions
If you are making your tortillas, heat a skillet to medium hot. Combine the Masa Harina and water and knead until a ball of dough forms. Pull off small "meatball sized" balls and use a tortilla press or rolling pin to smash the dough thin. Place tortillas on the skillet until they start to brown on each side, about 1 min or less. Remove and set aside.

Combine the avocados with the juice from one lime and mash into guacamole. Combine the Roma tomato, white onion, cilantro, jalapeno and juice from the other lime. Season with salt and pepper and set both aside.

If your shrimp have a shell, remove the shell up to the tail. Sprinkle each shrimp with the garlic powder, cayenne pepper, old bay, salt and pepper. Smear a thin layer of refried bean dip on each tortilla and sprinkle with Monterrey Jack cheese. Place each shrimp in the middle and wraparound the shrimp. Secure with a toothpick. You can flash fry your taquitos or bake them at 400degrees for 8 minutes.

(if flash frying) Fry each shrimp in oil heated to medium for 3-4 minutes or until the tortilla is golden brown. Top with guacamole, pico de gallo, cotija cheese and cilantro, then serve!